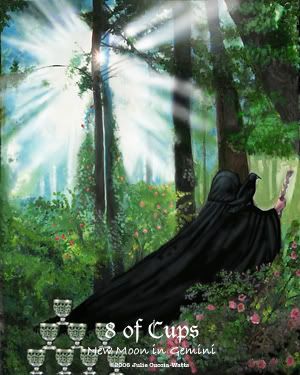 June 14th
General Meaning:
Situation where emotional issues are involved and emotional lessons were learned so it's time to move on. Represents moving on from a situation where everything that could be done was done and all there was to learn was learned. A short-lived relationship or a phase, followed by a spiritual quest.
The end followed by a new beginning.
My Story:
Not getting someone to understand your point and thus having to move on and let things be as they are. Sometimes means getting your point accross and moving on from an issue but still getting the feeling of it being unresolved, just like there is a feeling of having one cup missing on the card.