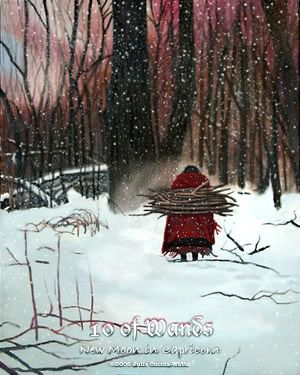 January 18th
General Meaning:
This card represent a burden you have been carrying on your own. This burden has obscured your view of your life path. pass your skills or information to the next generation, allowing them to joi in on the work. This will teach them something important and lighten your load. this card can also suggest moving to a new location.
My story::
I pulled this card in response to a question what will be my pregnancy like. Well, it was hard since it was not easy being a small fragile girl, growing a large baby. My son was born full term, at 7lbs 10oz. Like the woman on the card, carrying a load on her shoulders, I was carrying my precious load in my belly.
As far as the pregnancy itself, it was pretty difficult, since my husband did not have a job all winter and I was the only one providing while I had very little energy and had very strong contractions, not to mention other fun things pregnancy brings. On top of struggling to make ends meet, I had to do a lot of household chores and prepare the house for our baby.
Finally I had to sit my husband down and explain to him how exactly he can help and what do I expect him to do. Towards the end of second trimester he assumed part of the load in form of various household chores and learned to make some foods I often craved.